I've met Dr. Fields at Shiloh and Vicksburg. He not only looks like the General, he has his facts down, stays in character well and best of all, he seems to thrive on drawing in the youngsters.
From the News & Advance:
http://www.newsadvance.com/news/local/history-re-enacted-for-appomattox-court-house-park-film/article_987ec99a-0d64-11e4-ae82-0017a43b2370.html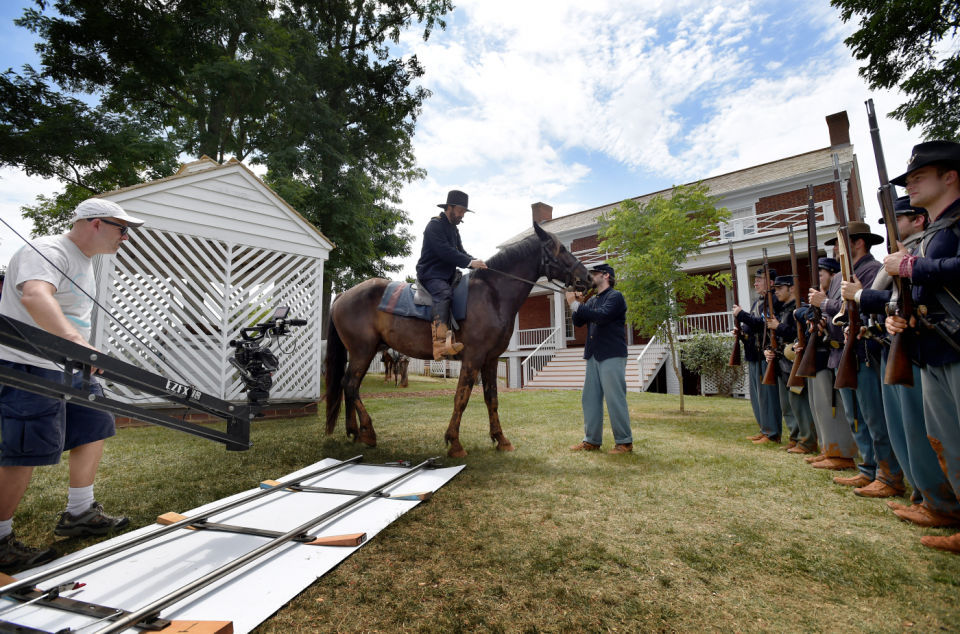 Re-enactor Dr. Curt Fields dismounts his horse while portraying Gen. Ulysses S. Grant outside of the McLean House at Appomattox Court House National Historical Park during a filming of the surrender for the park's welcome center on Tuesday.
APPOMATTOX — Gen. Ulysses S. Grant rode his horse to the front of the McLean House in Appomattox. Some of his infantry stood at attention, ready to greet him.
He dismounted — cigar in mouth — and strode to the front door, followed by seven officers.
But unlike Grant's visit to the now-historic house nearly 150 years ago, when he approached the door on Tuesday, a director yelled, "cut!"
Grant's arrival at the McLean House is just one of several scenes that will be featured in a film the Appomattox Court House National Historical Park is working on to replace the two films currently shown — just in time for the sesquicentennial of the surrender next April.
"This is ultimately for the visitors, and if this helps visitors further understand what's happening with the surrender, then we've succeeded," said Ernie Price, chief of education and visitor services at the park.
In addition to Grant's arrival and other major scenes — such as Grant and Gen. Robert E. Lee's meeting in the parlor and the stacking of arms by surrendering Confederate soldiers — the movie will include information not in its current films, which were made in 1975 and 1980. President Lincoln's assassination, the contributions of 3,000 colored troops during the Appomattox campaign and civilian life in the village are new topics touched upon in the film.
Filming began on Monday and ends today. Monday's filming took 15 hours and the other three days were scheduled to go at least 12 hours each. It will be edited to just under 15 minutes in length.
Price said he doesn't mind the long days.
"It's a once-in-a-career opportunity," he said.
The park received $250,000 for the movie, related administrative costs and theater upgrades from money the National Parks Service provided to the regional office in Pennsylvania. Of that amount, $175,000 will be spent on production, Price said. California-based Aperture Films is making the movie.
Because the film is shot in high-definition with surround-sound, Price said park staff felt it was time to upgrade the theater with a new projector and speakers.
"It'll be more of a theater experience," he said.
Appomattox 1865 Foundation, the park's support group, also secured a grant from the Virginia Film Office that helped cover the logistics of getting the actors on site to portray the historical figures.
About 80 people volunteered to be in the film. A lot of Appomattox County animals also will make appearances.
Some of the people were recommended — including Thomas Jessee, 64, of Lakeland, Florida, who portrays Lee. Others learned about it through word of mouth and wanted to participate.
"To be asked to portray him is a tremendous honor and a tremendous compliment," Jessee said.
A lot of the volunteers aren't re-enactors, because most re-enactors are older than the average Civil War soldier, who was between the ages of 18 and 24. The film called for men near that age range to accurately portray the time, said Sue Cochrane of Appomattox 1865 Foundation, who was responsible for casting the men and managing the animals. Other re-enactors were used to portray civilians and slaves.
"We have a lot of younger men who are coming in to be soldiers who are not re-enactors, but they were interested in history," Cochrane said, adding she gave the men instructions to not shave for a week before filming started because the soldiers during the Appomattox campaign wouldn't have had time to shave before the surrender.
In between takes, the park's historian re-positioned people and changed clothing to ensure the authenticity of the event. Appomattox red clay mud also was slathered onto the horses' legs and the men's boots and trousers, something that would have been present after marching around the Appomattox countryside in April 1865.
"These guys have just gone through a campaign; they wouldn't be clean," Price said.
Also adding to the film's authenticity was participation from descendants of people present at the signing on both sides of the battle lines.
Among them: Grant's great-great-grandson, John G. Griffiths, 76, of Fredericksburg.
"Of course I'm very interested in it," he said. "I'm overjoyed to be able to take part in the program."
Although Griffiths was in Union blue on Tuesday, he said he's portrayed Confederates in the past and has participated as an extra in other films for the park service and in Hollywood, including the movie Gettysburg.
Mike Reetz, 66, of Gettysburg, Pennsylvania, was another actor on site with some experience in park films; he was in a film made at the Gettysburg National Military Park several years ago, he said. In Appomattox, he portrayed Lt. Col. Horace Porter, one of Grant's officers.
He said he decided to participate in the film because Porter seldom is portrayed at the park, yet made important contributions during the surrender, including providing a pencil to Lee, who didn't have a writing tool. The pencil currently sits in the park's museum in the visitor center, although Reetz carries replicas in his pocket, ready to share with others just like Porter did.
"I just feel privileged to be here to portray that person," Reetz said.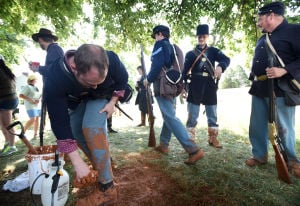 Aaron Sterling, of Lynchburg, adds more mud to his pants while filming at video for the welcome center at the Appomattox Court House National Historical park on Tuesday. Sterling and others were portraying union soldiers during Gen. Grant arriving at the McLean House. On that day in 1865, the troops marched 35 miles in the rain. "They would have been covered with mud," Sterling said. Photo by Jill Nance
Jim